Most bands can do fine with just a bio. Crystal Antlers need an encyclopedia. It would start with the debut 45 funded by a friend who also happened to be a bank robber—who'd robbed three banks in fifteen minutes—and then move to the no-budget FYF Fest tour in a veggie-oil powered school bus that got them on the front page of the Los Angeles Times calendar section.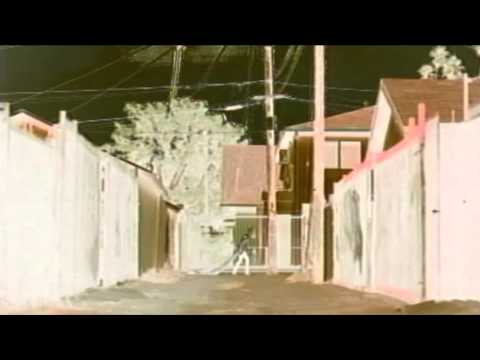 Then there's the part about the debut EP recorded with Mars Volta/Jack White keyboardist/Free Moral Agents mastermind Ikey Owens, and the honor and heartbreak both of being the very last band to get out a new record on legendary indie label Touch and Go just as it downsized to into a reissue focused label. And there would have to be space to talk about how singer/bassist Jonny Bell met and recruited artist Raymond Pettibon to contribute a Crystal Antlers album cover, or about the guerilla shows at biker-club parties and Amtrak stations that took up Crystal Antlers' first year playing out…
And now Crystal Antlers have signed with high-powered L.A. independent Innovative Leisure, home of Nosaj Thing, Allah-Las and Hanni El Khatib. (Khatib is also part of a production duo with Bell, and they recently finished the latest Feeding People LP in Bell's homebuilt studio.) Currently slated for a fall 2013 release is the newest Crystal Antlers full-length Nothing Is Real, featuring cover art by famed surf/skate/graffiti legend C.R. Stecyk III and recorded as the band returns to its most fundamental roots as an agile power trio Bell, drummer Kevin Stuart and guitarist Andrew King.
Nothing Is Real is Crystal Antlers going beyond the beyond, with songs that rattle and ricochet from desolation to delirium. Opener "Pray" sounds like what would have happened if Black Flag's Greg Ginn had produced the first Psychedelic Furs single; "Persephone" and "Anywhere But Here" match the desperate, relentless rhythm of the Wipers with the inside-out guitar melodies of the Pixies, and "Licorice Pizza" recalls lost cult-punk heroes like the Flesh Eaters or the Embarrassment. On Nothing Is Real, you'll feel as much as hear echoes of bands like Wire, Sonic Youth and Dinosaur Jr., especially on the bleak closer "Prisoner Song"— bands who knew beauty and noise could be the same thing, and who were ahead of the pack the very first day their albums came out. And for the first time ever on a Crystal Antlers recording, there's also drum machines, synths and even 4/4 drum beats, says Bell. Although that might sound different, to him it feels more like Crystal Antlers than ever.
"We've always played different music we didn't necessarily put on record," says Bell. "But with each album, we've tried to figure out ways to include more of our whole selves in the recordings, while still keeping things cohesive. And from growing up in punk bands, there always needs to be that little element of something that might piss someone off. We might be using a drum machine—but we're gonna use it completely the wrong way."
Now with the support of Innovative, Crystal Antlers have been able to finally fully focus on being Crystal Antlers, the band, instead of Crystal Antlers, the … well, the everything else. Since the beginning, they've been a DIY band in the SST Records way, using necessity as opportunity and learning how to record and silkscreen and book their own tours and even put out their own albums in every possible format, up to and including limited-edition 10"s with Roky Erickson covers. He started as a musician, but now Bell has learned how to be a producer, an engineer, a tour manager, a booker, a promoter, a record label, a distributor and more. With this newest album, he's happy to take the chance to be a musician again: "We had to learn everything the hard way," says Bell. "It's great putting out records on your own, but it's also a huge investment of time, which we'd rather focus on writing, playing shows and recording. I want to play music, not run a business. Every time I step into the studio, I come up with something new—there's work to be done."
Comments from Facebook
comments
Buy tickets for this event