I meandered up to the Deaf Institute and Manchester had it's usual Monday night ghost town feel. 'Oh god', I thought to myself, Austra is not the kind of band I want to see in an empty venue on a cold drizzly night. But as I walked up the stairs to a packed and sweaty room my fears subsided. It felt as if an energetic Saturday night crowd had been plucked from the weekend and relocated here, our own microcosm under the cosy dome of the music hall.
As Austra take the stage, Katie Stelmanis is met with a round of wolf whistles. Dressed in a white oversized boyfriend shirt, barely there shorts and knee high socks, she fulfils every boyhood dream in the room. She begins with an amazing display of piano skills and brings the whole room to a hushed standstill. Her powerful emotive voice grabbed hold of me from the very beginning.
By the second song the whole band are in full swing, the backing singers' ethereal voices float out over the crowd whilst the pulsing rhythm has got everyone moving. Katie's voice flickers seamlessly from a primal roar into delicate beauty as she winds her body and throws her arms up like a woman possessed by the music. The backing singers pulse like a pair of butterflies surrounding a rare flower. The whole atmosphere transports you from rainy Manchester to a faded underground club in New York somewhere, where aloof dancers twist ironically in a vougeish fashion.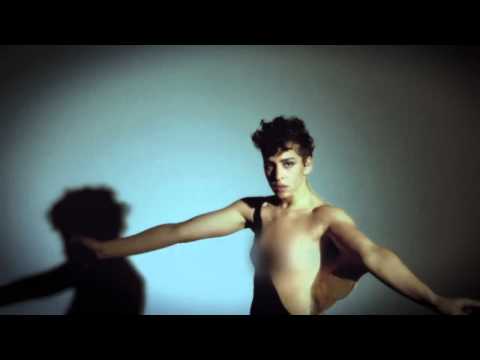 Austra – Beat And The Pulse
As the band take a moment to tend to the large array of electronics the smoke machine continues to blast out on stage. 'Is this normal? This fog is very mysterious' she says in an endearing Canadian drawl. Then they launch in to the massive crowd pleaser 'Darken Her Horse'. I can't help but draw similarities to the Alt-Pop queen Bat For Lashes, both in her sense of showmanship and her intense pounding of the keys. Also the incredible build up from sweeping haunting melodies to brash euro pop beats echo one of my favourite Bjork era's.
As the evening progressed Katie sheds a layer to reveal a bright red siren style shirt, I started to wonder how many more we should expect? where will this alluring display of pass the parcel end? The music followed this colourful shift and took a tribal turn with thumping toms and choral chanting then the crowd's inhibitions melted away as the urge to dance took over.
The final song pounded the room, the band, still bursting with energy let rip bringing this surprisingly raucous monday night to a crashing close.
Austra's unique brand of electro dream-pop is thoroughly addictive and will have you dancing like a maniac by the end of the night.
For more Austra, visit here!