The brisk weather reflected the changing of the seasons. Summer has slipped silently away to make room for Autumn, bringing with it a dour mood. For one night more, however, there is no room for frowns or grumbles. Bob Log III is in town, and courtesy of this one man band, there is a party in Manchester.
Taking an eccentric twist on the blues singer/song writer, Bob Log III is a visual spectacle as much as he is an entertaining musician. His sound of old, dirty blues guitar with kick drum, high-hat and distorted vocals is only one half of the act. The visual part of Bob Log's performance is courtesy of a sixties style motorbike helmet (with added telephone handset attached to the visor) and a spandex body suit in the style of Evel Knievel. This is a man who is hard to ignore.
Bob Log III starts the show by entering from the back of the Ruby lounge and walking through the audience. The raucous blues that he plays is juxtaposed against the eerie Sci-Fi atmosphere that accompanies him as stares from behind the blacked out visor of his helmet. The crowd is galvanized into a frenzied dance that is sort of a how-down, sort of a brawl. He walks on stage, instantly pounding his drum and cymbal that adds even more to the chaos that is already taking place.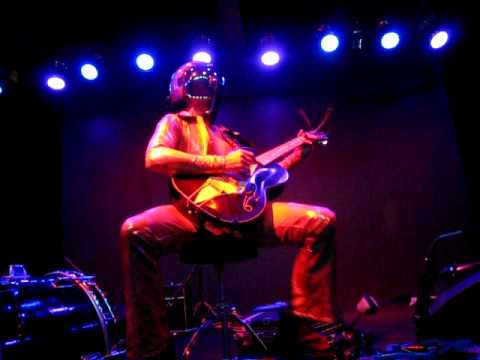 For a very visual and eye catching act, his guitar playing should not be forgotten. The tone is overdriven, but still clear enough to hear the impressive playing. His slide playing is one of the fastest I've ever seen, which is no mean feat considering his head (and the weighty helmet) is waving from side to side. He sounds like a punk Johnny Cash, but complex and interesting. He plays pretty much constantly, only stopping for the occasional swig of a drink, which he takes turned away from the audience to retain his ludicrous enigma.
Bob Log III is certainly not for everyone and is more than a little eccentric. His main motif seems to be breasts and things slightly carnal. As much as it's crass, it's wildly entertaining. He played the crowd pleaser "Boob Scotch", a mammary melody that traditionally starts with a woman from the crowd dipping her boob in his scotch. True to form, a female fan obliged to the cheers of the audience. As much as he is a great musician, there is not much variation in what he plays and the cutting tone of his vocals is enough to leave you with a tender ear drum. His brash stage presence polarises and there were certainly a few of the audience that were not fully anticipating what was to come. That said, those who knew what they had signed up for were bouncing from start to stop.
PHOTOS by Ste Breed of owtcreative.com
For more Bob Log III, visit here!