If their first album 'North' was praised for its cold sparsity and mournful sound, electronic trio Darkstar's latest album has taken a fresh new direction. The first track 'Light Body Clock Starter' opens with ethereal ambience, giving the impression of harmonious spinning disks with ghostly vocals from James Buttery calling 'Wake me up now'. This is an interesting signifier in Darkstar's change in direction, if 'North' was a sad and lonely dream then 'News From Nowhere' is the band waking up into a brighter, sunnier morning.
Members James Buttery, James Young and Aiden Whalley isolated themselves in a house in West Yorkshire to write together for the first time after their debut album. Swapping the industrial landscape of London, where their previous work has been produced, to a rural idyll seems to have allowed the band to embrace their softer side. Second song and first single from the album 'Timeaway' reflects this, incorporating a tinkling steel pan melody, with soft whirrs and clicks as the background sound creates the impression of opening a beautiful music box. This is the highlight of the album.
'-' nods towards Radiohead at their most experimental. Piano loops played backwards provide an unexpected and uneasy drone, a slight departure into the melancholic previously unseen on this album. Buttery's falsetto soars playfully around the droning loops much like Thom Yorke has tried in recent times, creating images of shapes melting apart and drifting together in a gentle ebb and flow.
Whilst making the album, James Young explained how Darkstar were inspired by how George Harrison had approached recording My Sweet Lord, the former Beatle's first solo single, by creating a series of mantras rather than writing lyrics in a traditional way. This inspiration is heard in 'Amplified Ease' with the mantra 'I'm fine on my own' repeated by voices, themselves creating the rhythm of the track which is the most infectious of the album. The resolute message behind their chosen chant shows the change from the industrial sounding desolation of the first album, which is reflected in the cover artwork of red and black metal pipes, to this new optimism perhaps shown in their current album cover of vibrant and colourful flowers.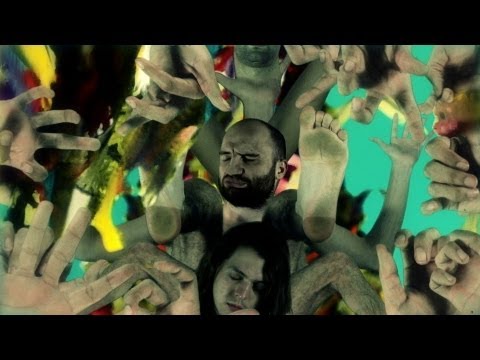 'Bed Music' combines electronic tinklings, which are the signature of 'News From Nowhere', with visceral tribal drumming, providing an interesting contrast and giving a heartbeat to this record which is Darkstar's new direction.
Closing track 'Hold Me Down' is a fitting end, with ethereal synth sounds that are not dissimilar to Circling by Four Tet and have a similar sentiment to the opening track, bringing the album full circle.
'News From Nowhere' is a positive change for Darkstar, showing that the band can regenerate themselves and their outlook with each album meaning that ,for them, 2013 could be a very good year.