Since recently relocating from Leeds to Manchester, Richard Knox's Gizeh Records continues to steadily release a formidable catalogue of dark-hearted and brooding experimental music, its artists often drawing on a variety of modern-classical, folk and ambient electronic influences; and whilst the bar and lounges of Oldham Street's Castle Hotel may be hosting a familiar scene of Friday night revelry, a very different atmosphere emanates from the sanctuary of its intimate back room.
Tonight sees one of Gizeh favourites Fieldhead take to the stage as part of their three-night mini UK tour. Fresh from drawing an sizable crowd of 70 down at London's Cafe Oto the previous evening, they are here along with support from new label-mate Charles-Eric Charrier and as he begins his set, I'm relieved that the decision to make this gig all-seated was made.
There's definitely something about giving people a seat for their live music experience, they tend to shut up and listen. As Charles-Eric settles in with his familiar looking armoury on stage, consisting of guitar and a selection of pedals, the uninitiated members of the audience (includes this writer) may believe they know where his set is headed right from the start. Charles-Eric is quick to challenge expectation, however and despite the opening twenty seconds or so consisting of an approximation of the main hook of Joy Division's 'Love Will Tear Us Apart' – perhaps played as a knowing nod to Manchester's musical heritage – this musical red herring quickly gives way to the real beauty of his show; restraint, tension and dynamic. Far removed from being merely an exercise in simply piling up guitar loops on top of each other, his performance frequently blurs the lines between sparse composition and improvisation and makes for a tense and challenging half-hour of jazz and blues inflected guitar techniques. Wandering motifs slowly drift in and out of focus, coupled with occasional hand-tapped rhythms on the body of the guitar and spoken-word French monologue. We just needed some flickering candles to complete the shadowy atmosphere. If this sort of stuff hasn't been used in a recent art-house movie soundtrack, then it really should be soon.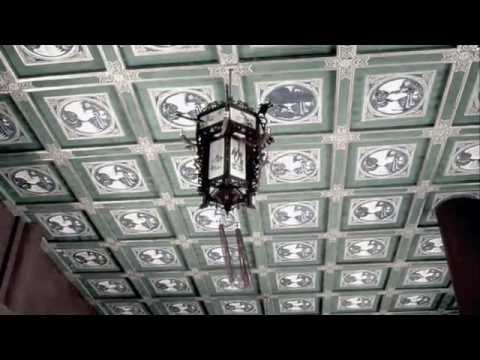 Fieldhead will hopefully be known to fans of post-rock anti-heroes Hood. They came together in Leeds in 2008 and are a duo consisting of The Declining Winter members Paul Elam (synth, laptop electronics, samples and percussion) and Elaine Reynolds (violin.) They create a unique form of electronic music that I quote (as I can't come up with a better decription myself) "delights in tape hiss, geography, bleak landscapes and decaying analogue loops." The pair have released two albums so far, the most recent 'A Correction' being back from 2012, so it is my hope tonight that a new track or two may be heard. My hopes are fulfilled straightaway as two new pieces are aired from the outset. Reassuringly there are no great shifts in musical direction. Thick swirls of ambient mist are built up from Paul along with the dampened reverb trails of aging pianos. The percussion is minimal. Soft, muffly bass drums sit with static and crackle loops to create a rhythm track. The end result is a similtaneously comforting yet mildly disorientating audio fog, from which an unexpected new twist arises. Slowly, a dominant and arpeggiated bass synth figure snakes its way to the front of the mix creating an added sense of propulsion and taking Fieldhead's music into more defined structures. It sounded a bit like a slowed-down Chris Clark track at times and I'm excited to hear what their next release may have in store.
What characterises Fieldhead among sonic contemporaries such as Tim Hecker, William Basinski and Grouper is Elaine's violin. Her playing style always adds a well-needed focal point to a live Fieldhead show. If you can imagine some of the more exposed, vulnerable string parts of Godspeed You! Black Emperor/A Silver Mt Zion along with more traditional folk-inspired melodies then you're getting somewhere close. Her playing style consists of layering swoops, held notes and melodic fragments together with the added raw grit of a few squeaks, groans and scrapes that many a player would discard. Rather than impair the music, these rough edges add to its honesty and earthy fragility.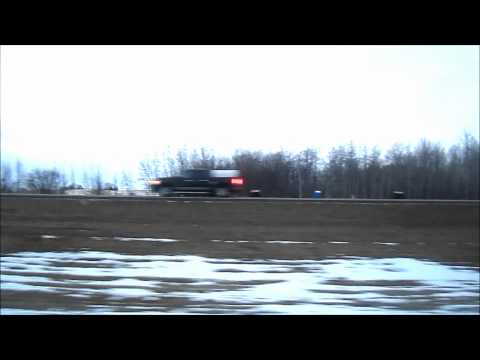 Behind the duo on the wooden wall, videos of overcast skies, sunsets and trees with branches bare shot from moving car windows are projected. These images could have been pulled straight from a Hood/Declining Winter album cover and anchor us in to that overriding sense of northern English melancholy felt as yet another winter approaches our shores.
Fieldhead do a remarkable job of getting a lot of mileage of what is admittedly a limited setup. Personally, I could listen to this sort of stuff for hours, but wisely, they know the optimum running time for their show and bring it to a close after a fully formed 45 minutes, where individual track titles become secondary to the overall sense of mood and atmosphere. Their set consisted of a mix of the stand-out tracks from their two albums and the final track was also another new one. This is a duo uncompromising in their particular vision, but it is always crafted with heart and eminently listenable. I eagerly await to see where the next leg of their musical journey takes us.
Comments from Facebook
comments