Throughout rock-history, those bands who have withstood the test of time tend to fall into certain categories. There are the innovators, the veterans, the unsung heroes, and then the all-time greats. With 31 years on and off in the business, Guided By Voices have, in their own little ways, claimed a stake in each of these groupings.
The Dayton, Ohio band have been there, done that, gone through endless line-up changes, daunted new listeners with their endless back-catalogue and they haven't so much rewritten the rule book as completely disregard its existence. All the while, and crucially, they have remained an unspoiled gem, perennially operating under the radars of commercial success, but not without receiving their fair share of critical acclaim.
To put it into a local context, GBV are the US equivalent to Manchester's very own alt-rock heavyweights, The Fall. Although Robert Pollard and co may have only churned out a relatively measly 0.71 full-length albums per year in the shadow of the 0.78 by their British counterparts, the band did take a six year sabbatical between 2004-2010. And what's more, at an average of 20 songs per album, Pollard can boast the most prolific song writing record of all time, ever (even if each song is on average only two minutes long). But Pollard pips The Fall's Mark E. Smith where it really counts; for two punk granddaddies both with 56 years behind them, and a fair bit of substance abuse between them, Pollard is winning the contest of not having a face like a melted walnut by a long distance.
On Motivational Jumpsuit, the band's fifth album since their 2010 reunion, GBV exercise their long-standing mantra. That being to create sounds that tumble gracefully within little musical paradoxes. Each song is satisfying in its brevity, powerful in its simplicity, and utterly compelling in its lack of flashiness. This is lo-fi guitar music that sits perfectly in the balance of effortless craftsmanship and half-arsed laziness; just how it should be.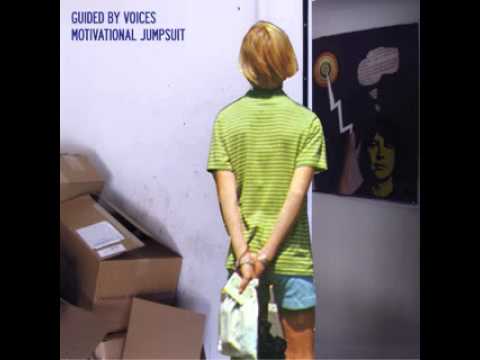 Riffs crunch and grind over angular chord progressions in songs like 'Planet Score', 'Zero Elasticity' and 'Vote for Me Dummy' while Pollard exults his usual blend of aloof yet candid lyricisms. Despite having over 1600 song titles to his name, the songwriter bemoans the pains of constant creative output on 'Writer's Block (Psycho All The Time)', revealing that it has taken him "hours, days, months, years, lifetimes… tears, sweat, blood, sanity" to pen his lyrics. Kind of puts the toils of all the headline hugging Pete Dohertys of recent rock history in to context, doesn't it?
With every moment of angst, there is always the inevitable respite of melodious fuzziness that we've come to expect from a band who have mastered the art of meandering from thrash to bliss in their sonic binaries. On 'Jupiter Spin', Pollard softly croons over an unforced and sumptuous pedal driven guitar lead and elsewhere, strings jangle on the sunblushed one-minute long 'Record Level Love' only to lead straight into the sultry strut of 'I Am Columbus'. The record hits its height of dulcet distortion on the likes of the heartfelt and elegiac 'A Bird With No Name' and 'Shine', the former of which displays the most perfectly restrained example of a cathartic crescendo, as Pollard lets his vocal chords rip and the distortion pedal kicks in for all of ten seconds before the song halts to a sudden stop.
Motivational Jumpsuit sees GBV hark back to the hazy daze of their mid-90s heyday. Musically they've once again struck that recipe which cooked up the likes of Alien Lanes and Bee Thousand. That recipe serving up the most appetising of their little paradoxes: chaotic cohesion. This album has proved to be the most GBV of all their post-reunion efforts, which after all is what they set out to achieve when they picked up their instruments again in 2010.
As with all bands of their stature, reputations are prone to proceed GBV at this stage in their career and in rediscovering their past sound they could be accused of churning out the same formula. Which is somewhat true, but then again, there's that old adage which goes something along the lines of, "If it ain't broke…"
Comments from Facebook
comments