Let me see that KooOOoong…baby…that Kong-K-Kon-Kon-Kong!
BOOM! We're flying into The Ruby Lounge. BANG! We're striding up to the bar. BADOOSH! We're drinking pints at the front ready to digest pre-Kong lubers Blacklisters…In reality, we've just had set menu B at Wasabi and are now panting salty breaths from our barely awake mouths as we huddle near the railings wishing we could have a sleep. We've changed…Oh how we've changed.
Kong's fellow Brew Records signings Blacklisters are impressivley harsh. Lots of very angular guitar, slices like diamond through fuzzy bass, while big, sabbath-esque drums slam and crash just how you'd like them to. This all provides the perfect foundation for some drunkedly slur-screamed vocals to stamp upon, interacting with the guitar lines to great effect. The singer is out in the half full crowd, flailing like a Veloiraptor, mildly scuffling with the members of the audience who look most involved, not us, but he does come close enough for us to see his kind eyes. I liked their track Ask Yourself a Question and the Answer is Fuck Yourself (or something along those lines) best, some great lyrics drooled over the jagged guitars and slick bass groove which got a collective thumbs up from all in attendance. The applause grows song after song and the Blacklisters set ends with all of us well and truly on their side, won over, wanting to help them pack up their stuff, wanting to see them again.
Blacklisters Soundcloud
Feeling a little more hydrated and alive, we get ready for Chorley's Kong, a band that's legend preceeds them as one of the most exciting, unpredictable live acts around, and their debut album Snake Magnet (Brew Records UK, White Drugs US) is pretty much incredible too. They are three men, known only as Magpie (guitar & vocals), Krem (drums) and Lulu (bass), colour coded in red, hideous gel based clown masks taped to their skulls, smiling and sneering at the crowd, filling us with dread and amazement. The moment they enter the stage you are locked in their world, it's scary, it's exciting, it's mildly sexual, let me see that Kong.
There is little point in wasting precious superlatives trying to describe what Kong sound like. It's big, heavy music slathered with freaky, unsettling goo but that's as far as I can take it. It is far easier to describe the mood they create in venue. Some tracks whiz past you in a blur of euphoria; catchy riffs a la Magpie, twanged on a guitar with multiple strings missing, screeched vocals, hilarious onstage antics, top draw banter and amazing technical skill.
Others make you feel like you've just necked a bottle of prince consort whiskey, had two tokes on a spliff handed to you by your granddad and are now spinning out on an unplumbed bathroom floor.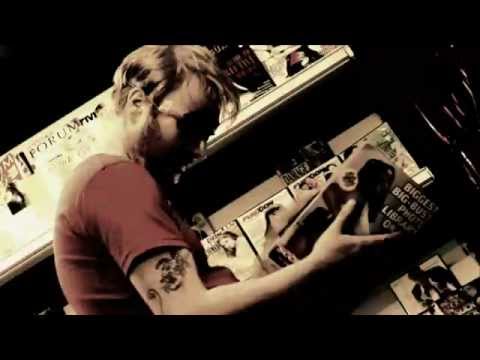 The tracks are woozy, harsh, deliberate abominations on your spirit and there's little to nothing you can do but stand there like a goon and applaud like a seal.
The set ends with a drone of unbearable feedback (which is still ringing in my ears) as the band dissemble the onstage microphones and rearrange them to form a small percussion unit centre stage, the main feature being the Lulu's head mounted by a floor tom drum.
Their set is short but how could we take more? It is what it is, and that's more than enough. As we leave my thoughts drift to what they would be doing now they have departed the stage. Celebratory drinks perhaps? A lie down? A cuddle? I like to think they just vanish, like a twisted dream sinking into the backs of our minds, curled up waiting for the next time they can disturb our sleep, waking us up, sick in the night.
Kong Website
Blacklisters Website
Concert promoted by WOTGODFORGOT