The still air and (unusually) calm streets of Manchester provided a fitting atmosphere for Lucy Rose's first Manchester show. That night, riots were sweeping across London, her current home, causing widespread damage and untold misery. The following night, the same fate awaited Manchester. Had the show been booked for 24 hours later, it probably wouldn't have happened at all.
A rising star of acoustic folk/pop scene, Lucy has been heralded as one to watch ever since she became compadres with Bombay Bicycle Club around 2009. Surprisingly tonight she released her first single, Middle of the Bed, considering her sound is well rounded and very professional.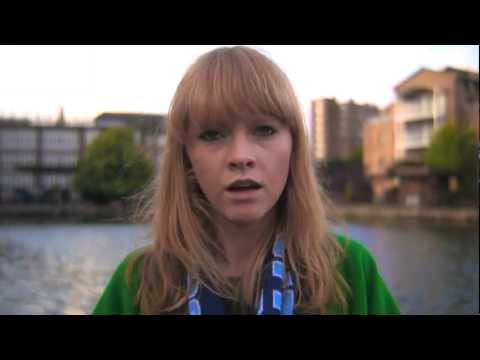 As the first song started, without announcement or bravado, Lucy and her band filled the room with a delicate sound that matched a very unassuming stage presence. Her sweet and soothing voice resonated beautifully, only to be complemented by near perfect harmonies and breathtaking backing from the band. Around her was lead guitarist Bjorn Agren, Bassist Joe Steer, Drummer Sarah Palmer with Mikey Reed on the violin and Alex Eichenberger on Cello.
Lucy's powerful vocals and the band's impressive musicality were instantly gripping. However , occasionally their low-fi and detached demeanor slipped from being humble and endearing, to what seemed tired and uninterested (which in all fairness is understandable, given it is nearing the end of their tour).
Seamlessly slipping into their next song, the audience began to gravitate towards the stage, trying to get as close to the singer whose touching and sensitive lyrics belied her youth and beauty. Her singing was pleasing to listen to, with a good balance of soft alluring tones and powerful, passionate lyrics. In saying this, at times her voice became hard to distinguish her voice from others of a similar genre and it seemed to lack the distinctive identity that defined the best part of their show.
For the most part, the sound from stage was fantastic. As well as the basic similarities to other acts like Laura Marling or Scandinavian twin act First Aid Kit, there were signs of an eclectic appreciation of music, with sound similar to Paul Simon or occasionally Talking Heads. As a band, their sound progressed as the show did.
Midway through the set Lucy had the majority of the room wrapped around her finger, as she demonstrated her natural talent for song writing. Following with the harrowing song, The Night Bus, their sound took on hints of Feist and even early K.D.Lang at points.
Before launching into the new single, Middle of the Bed, she announced the sale of band Jam and Tea, the proper accompaniment for music that provoked a sense of escaping a cold, dark night only to enter a warm and comfortable cottage.
Lucy Rose's music will touch many more than the hundred or so people gathered to watch tonight. She has what seems a natural ability to create music that will provide the backdrop for a million first kisses and blazing sunsets, while maintaining a dignified modesty and charming aura.
P.S. A very very big doff of the cap goes to supporting act Karima Francis, whose voice, songs, stage craft and hair deserve a huge round of applause. If you haven't lapped up the beauty of the songs she is producing then go to it now.
PHOTOS by Ste Breed of owtcreative.com