That sad brass of the intro to the title track. Michael Parkinson trudges into frame, dragging his feet to each trumpet pulse under a solitary spotlight from stage left, head hung like a Trappist Monk, face nullified by shadow before he turns 45 degrees, tugs his trouser legs-up and sits amid the brown-carpeted artifice. Ever so slowly, he lifts his head to reveal the face of that Golden Clockwork Owl out of Clash of the Titans, (the proper 1981 one, with the woman's bum coming out of the bath). His nasal Barnsley quack muffled under his golden beak…
"…Hay-hees uhn Heh-huh-hen, Huh-hoh-huh-hee…" he manages, as the Yorkshire Television 'Y' flies up from behind and over the mottled brown background, looping in a hypnotic whirl like the Hanna Barbera Star, then swooping down, stabbing it's unipedal prong into Parky's head with such force as to send pink-mince glommed cogs raining over everything as 'Love Letters' kicks-in from the band sounding like The Demon Supremes with a 'Keep Me Hanging On' from Hell.
There's something so beautifully askew about everything Joseph Mount has served up for us thus far; this retro assembly of familiarity, an almost taunting normalcy surreptitiously infused with this insipid dread, a gagged anxiety, as definitely present yet intangible as that bastard, baseless, sense of regret married to hangovers. 'The English Riviera' was a tourist board advertising hoarding for the breathtaking beauty of Metronomy's vast talents, that three years later has fostered an anticipation that has in recent weeks seen a Michel Gondry directed video, Paul McCartney shimmying in his seat at the NME awards, and a zombie throng clogging their 6 Music Festival performance at Victoria Warehouse the other Friday night.
If 'The English Riviera' was meant to cue a follow-up heralding Metronomy's ascent to Saturday Night Pyramid Stage headliners or suchlike, Mount never got the memo. He was too busy writing Love Letters. Whether a deliberate snub or simple self indulgence, 'Love Letters' is a blissfully intimate affair, at first seemingly devoid of many of the strengths that made its predecessor such a consummate success.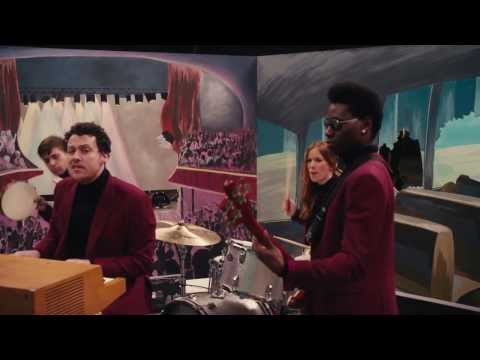 'The Upsetter' is the bearer of bad news for 'English Riviera' sycophants, insinuating in its spartan sound and opening lines that this album could be a series of demos from the road. In actuality Mount went one better and ensconced himself and the band in the Analogue-gasm that is Hackney's Toerag Studios, and committed to 8 Track a series of minimalist ditties completely at odds with the promise of the oscillator holocaust of 'The English Riviera's full stop 'Love Underlined'.
Throughout its 4:16 'The Upsetter' is unerring in it's charity shop organ-sounding percussion accompaniment, the wheeze of sustained keys, and double tracked acoustic strum, but is astonishing in it's affecting chord changes and mournful chorus. Similarly, Mount plays ostracised Phantom of the Opera on the ringing-in of 'Monstrous' with his Haunted House harpsichord, followed by a resulting song that never gets out of first gear, but swells magnificently in grandeur and narrative.
Fuller sounds emerge midway through with the urbane, winding, Joe Jackson progressions of 'Month of Sundays' and more markedly 'Boy Racers', which comes closest to the Metronomy of old – a globular, Jean Michel Jarre/Yellow Magic Orchestra-esque instrumental with crepuscular keyboard undercurrent-hum, oddball synth trills, 'Low' era Bowie guitar part and strangely creepy handclaps, setting the Golf GTImagination running wild with visions of synchronised machismo on twilit, rain-slicked English streets.
'The Most Immaculate Haircut', from composition to lyrics, is the album's most immaculately realised piece of music, the key to understanding the barb-littered Love Letters of this understated masterpiece, and perhaps the greatest achievement of Mount's already enviable songwriting career to date. 'Reservoir' is a plucky little organ-driven upstart of a postcard to the comforting conventionality of a former life, and about as upbeat as this record gets, while the desperate suggestions for relationship defibrillation in waltzing swan song 'Never Wanted' further cement the permeating sense that despite Mount's apparently blissful, all-but-married living situation, these 'Love Letters' are anything but fawning.
The Gondry video seems to mock the notion of Metronomy taking the industry and culture by storm, and the album further attests to that. Should he be proven wrong by providence, it will have been against Joseph Mount's intentions and in spite of the singular vision of his artistry. 'Love Letters' is potentially a painfully honest album, and most definitely a decided disavowal by this country's quintessential band, informed by the cultural detritus that bore them. This might be where you abandon them for the banality of your Bombay Bicycle Club's, and a sorry testimony as to the vapidity of your emotionally invalid, supposed-soul.
Comments from Facebook
comments