Winter tightens its white-knuckled grip on the city, turning the darkening ginnels of the Northern Quarter into a narrow latticework of freezing breezes and spearing rain. As we approach Kraak Gallery, hunched and clutching our collars, my companion recognises the drummer from headliners Iceage hanging about near a skip looking like a shifty French exchange student. He asks us for a light and we oblige; but we don't stop to make small talk because we're late for the much-anticipated PINS set. Also, he looks like he might stab someone and we don't want it to be us, not yet. We climb the crumbling back staircase and enter the attic venue just in time to catch PINS meekly taking to the stage.
My companion and I are joined by wonder-dancer Jack Ghost Outfit who immediately picks up on the matter of volume. He asks, 'Is this venue even capable of damaging your hearing?' with a worried expression on his face. Despite the fact that the place is decked out like a military training camp with camouflage netting and a PA on chains hanging from the ceiling, we all fear that it might not be up to mustering any kind of sonic assault. Nobody stands round scratching their chins to Iceage. You want to get clobbered in the viscera.
The same applies for the next band up as well, Wigan blues-fuzz two-piece Brown Brogues, who should only ever be experienced at the outer limits of the decibel range. They've had a good year, establishing themselves as forerunners in the pack of hotly-tipped new bands emerging from the North-west following a tour of America and support slots with the likes of the Kills, earning the praise of luminaries such as Alex Turner along the way. I'm sure as the year has gone on Mark Vernon's wildly-decorated guitar has become ever more highly-slung and the hip-swivels more pronounced. Creating a blustering, pulsating torpedo of garage-noise whipped up by the brutal beats of drummer Ben Mather, the guitar swings high and Mark's body is left gyrating in the sound thunder…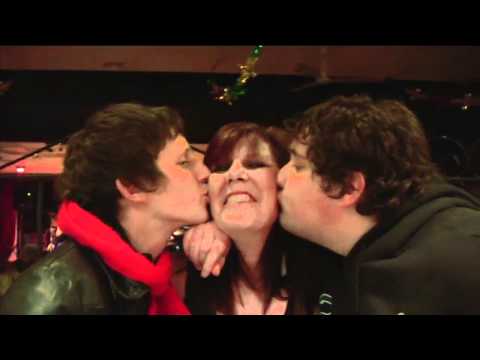 Tonight's show, then, should be a climactic year-end celebration for a band that the city seems to have well and truly taken to its heart. However, it's just not quite loud enough to create the kind of raucous, sweaty atmosphere that the Brown Brogues revel in … the atmosphere of their recent Now Wave headline show at the Castle, for example, where sweat dripped from the ceiling and tables with empty beer glasses shuddered and clinked. The wooden back room floor bounced for all it was worth that night.
My companion and I are starting to accept that this might not be the night of glory we'd hoped for. We stand back and talk about how we need to get drunk and properly involved for Iceage, who are sitting on a sofa to the side of the stage glaring at the crowd, looking like they want to kill everyone in the room.
There is something slightly sinister about them and even dirtier mud has been slung at this young band in recent months, including accusations of far-right sympathies as a result of Ku Klux Klan imagery used in a video they made for 'New Brigade', fascists latching onto the Danish hardcore scene and occasionally turning up at their gigs, and some drawings published in a zine by frontman Elias Bender Rønnenfelt that depict executions by Klansmen wearing iron crosses and race wars between skinheads and Muslims. The zine seems to be the product of a troubled, distracted schoolboy mind beset by visions of torturers, graveyards, dead animals and pagan symbols. You can download it via the mediafire link on this page of Elias's artfully gothic blog.
When presented with this kind of imagery, it's important to remember that punk is not about being nice. Punk bands have always sought to rub our faces in the ugliness of the world. When the first wave of American and English punk bands emerged in the mid-1970s, they found themselves in the aftermath of the Holocaust, with a new world order being created by the Cold War and the dawning of the nuclear age. Faced by humanity at its most psychotically destructive, these bands did not stand around writing doleful songs about how sad this all was, because punk is not a delicate, elegiac art form. It is a pissed-off, paranoid, nihilistic product of human suffering, as much as a response to it. The early punk bands were animated by anger and resentment. They daubed themselves in swastikas and Nazi medals and wrote songs like 'Blitzkreig Bop' (the Ramones), 'Belsen Was a Gas' (the Sex Pistols) and 'Master Race Rock' (the Dictators) that were designed to provoke older generations and cause offence wherever possible. This does not, however, ipso facto make these bands fascists. Around half the members of the three bands above were actually Jews (and the same applies to Iceage, incidentally, whose drummer is Jewish). These bands never said believe in these symbols, but they did force people to confront their malevolent existence. Above all, they wanted to provoke a response.
All of which is by way of making the case for not judging bands like Iceage in the terms that we might set for our politicians, but rather allowing them to be true to their origins and play with fire. Because if you ask me bands should not have to explain themselves in the conventional language of morality and logic; they should remain like the runes in Elias's zine: mysterious and suggestive of uncomfortable meanings that are always just beyond us, or perhaps far behind us, or beneath us, or within … They write with a new alphabet, according to Elias.
The crowd is getting restless but I savour the anticipation as the four Danish youths try to make equipment function that looks as tired and battered and bruised as they do. Waiting for them to start is like someone telling you that they've got some news but you best sit down. There's a sense of pleasurable dread in my stomach and it's been there for about half an hour. I just don't know which way it's going to go. My companion keeps making jokes about how it's taking them an 'ice age' to get ready.
'Hope you're enjoying this,' he says. 'What if it's part of the twenty minutes? This could be their set!'
Having changed a few cables they eventually feel their way into an opening version of 'White Ruin' that's about a quarter of its ideal volume. A fairly pathetic mosh-pit immediately opens up and after getting pushed around a bit by some indie boys pretending to be metallers and some Viking-sized North Europeans, we retreat to the safety of the fringes. Now that things have started to get a little bit heavy and we're cowering in the corner, we slightly regret boasting about how we were going to be right up the front in the thick of it. Occasionally people bump into us. One bloke turns to me and grabs my collar, 'Nobody knows why they're here or what they're doing!' he yells.
The bass amp is making a weird fuzzy sound and after another interlude spent fiddling with all the knobs and getting the beleaguered sound engineer on stage, Elias pleads for one of the support bands to lend them a bass guitar. 'Please,' he says, in a broken, beseeching, Nordic tone. 'Please.' My heart utterly goes out to him.
Literally everyone who sees this set will later say it was underwhelming and I can't pretend that it's otherwise. Nobody's bleeding. This is partly the fault of the venue and its sound system. It's also partly the band's fault, as most of their ridiculously short set is made up of new material that nobody's ever heard and even the few token songs that are played from their acclaimed debut album New Brigade are massacred beyond recognition. The suspense-building, short sharp shock approach to gigs doesn't really work if it's a long wait for a short weedy shock. My companion suggests the following review: 'They take fifty minutes setting up then play for five then stop. They mess around for ten minutes then play five more. End.'
[This is an abridged version of a full post on the Atrocity Boy blog]
Concert promoted by Now Wave
Photography © Pat Hill