Three years on from his first solo album, here we have Paul Banks releasing the first record under his actual name. "Julian Plenti is… Skyscraper" showed us another side to the New Yorker (born in Essex), who is so often known as the gothic, baritone driving force behind the fantastically underrated post-punk band Interpol. Whilst the cutting, melodic guitar work still remained, the album offered us a poppier, stripped back (at times) version of Banks's songwriting. It lacked the funky, dark-disco bass grooves of Carlos D, but still rocked hard in places and ultimately gave us another intriguing glimpse at Banks's musical palette.
Banks teased at the Julian Plenti moniker once again in June of this year with the EP "Julian Plenti… Lives", a brilliant 5-song collection including covers of J Dilla and Frank Sinatra, which in itself showed that Banks has a wide range of influences. And now in Autumn of 2012 we have "Banks", 10 epic songs of eerie, heavy rock that are already my soundtrack for the forthcoming Winter cold.
The album opens with the single 'The Base', a mid-tempo yet danceable number which grows into a larger beast thanks to the pounding drums and groovy, hammer-on guitar techniques. The song shifts direction towards its climax with Banks taking a higher vocal key whilst chanting "so steep" over the satisfyingly slick, polished guitar licks.
Further on, 'Arise, Awake' purrs along as Banks croons romantically over a charming piano section, but eventually twists darkly thanks to a repetitive guitar riff that exudes caution, before coming full circle to end on a high note.
The production at times leads me to thinking of hip-hop, mainly due to the hard-hitting, distinctive drumbeats that really help to lift the songs to arena-rock proportions. This doesn't surprise me however, as Paul Banks is a well-known hip-hop enthusiast who apparently listens to it more than any other genre of music. It would seem likely that it has inspired him somewhat during the final processes in making "Banks".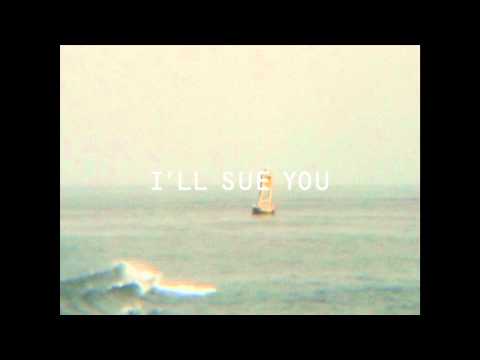 Other highlights throughout the record include the ambitious yet soothing soundscapes of 'Lisbon', an instrumental track located at the halfway mark. Minimal guitar lines seem to be fairly present in "Banks", and they work brilliantly, as is demonstrated in this song. There is no need for overcomplications and busy noise when you can craft a beautiful, emotional piece of music like Mr. Banks. 'Lisbon' is a great example of his songwriting, as it mixes joy and danger, with soft, pleasant atmosphere turning into dramatic, icy crescendos.
Songs like 'I'll Sue You' show that Banks can deliver infectious basslines without the help of his old pal Carlos D, and remind us that Banks can create gloomy, black pop without the rest of Interpol. 'Paid For That' finds Banks in a declarative, confessing mood whilst a soothing, creepy synth floats over his poetic statement; "It's one night, two years cold, next she's making me doubles. I'm drinking moonshine, cos I've had enough of starlight."
The album closer, 'Summertime is Coming' (also featured on his June EP) is truly spectacular, an absolute gem which I can't stop listening to months later. His voice blows me away sometimes, and this song is one of those moments. The bass octaves relentlessly, fuelled by the drums and Banks's chilling vocals, which soar during the huge chorus; "I'm calling (break out)".
I have been a massive fan of Paul Banks and his discography for years now, so say what you will about a bias towards him concerning his more recent work. But regardless of that possibility, I absolutely love "Banks". The 34 year old has said lately that he wants to continue with his solo output, so I can only hope he maintains the excellent form that he has shown so far, with or without Interpol.
Track listing:
1. The Base
2. Over My Shoulder
3. Arise, Awake
4. Young Again
5. Lisbon
6. I'll Sue You
7. Paid For That
8. Another Chance
9. No Mistakes
10. Summertime is Coming