Her arrival on stage sets the tone for the night. Tightly choreographed, visually arresting, entirely odd, and utterly thrilling. St. Vincent, aka Annie Erin Clark, dances. Not in the traditional boogie robots sense, nor even in the Thom Yorke religious rapture sense. St. Vincent dances like a ballerina vogueing. All geometric shapes, bourrées en couru shuffles, shivers, spasms and contortions. Very art-school of course but that's the thing about St. Vincent. She's arty, but she gets away with it simply because she's so extraordinarily good.
She's in town because her new eponymous album is out this week, and bloody good it is too. The kitchen sink approach which sometimes dragged down her previous work has now been pared down. The music that remains is more focussed, accessible, with tunes you can whistle and beats you can feel in your gut. St Vincent has made an album you can dance to, or sit down and seriously listen to, or both. Does it work live? Absolutely. You don't leave your brain at the door when you enter St Vincent's church, but you don't have to kneel down either. It's a non-denominational approach and the Manchester cathedral congregation were thunderous in their appreciation.
With Prince playing just down the road that night it seemed appropriate that the early stages of the gig/performance brought to mind his legendary 80s backing band The Revolution. St. Vincent often shared the spotlight with Toko Yasuda, and together they danced, joined heads, and carried out all those little synchronised spins and nods that the purple one would share with Wendy Melvoin and Brown Mark back in the day. Occasionally Toko would strap on her own guitar and go head to head with The Saint to see who could make the most noise. It was a close run thing. Matt Johnson on drums and Daniel Mintseris on keyboards were happy to stay in the background, but then they wouldn't have been able to compete with team Vincent/Yasuda so why bother? But even someone as talented as Yasuda was happy to play second fiddle to the artist we'd all come to see.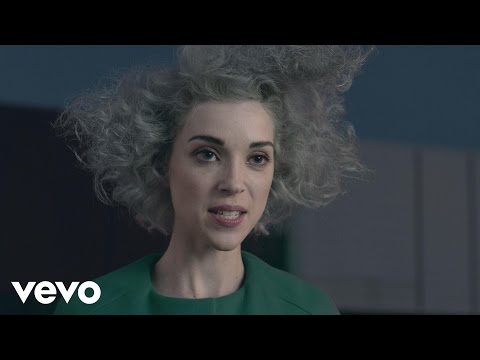 Because quite simply St. Vincent is one of the finest guitarists of her generation. She takes an entirely fresh approach to the instrument, her style is her own. Intricate and innovative, with all the traditional rock histrionics notable by their complete absence, Vincent makes her instrument sing in a way I haven't seen before. She combines Vinni Reily's virtuosity and Tom Morello's sonic creativity into something a style entirely new and unique, and she can push it all the way to 11. To think that she can also do an up-and-over. I must be in love.
It's not a blind love though. St. Vincent's performance was one of prodigious technical skill and creativity, but it remained pure performance. The two between-song banters appeared scripted and were largely bemusing for the crowd. She introduced the band, said thank you, and that was all. Everything was rehearsed, polished and performed perfectly, but the wall never came down. Well, not fully. Only in the encore, in the middle of another ludicrous guitar solo, did I think I was seeing her start to get lost in the music. A smile settled across her face, her eyes closed, and her fingers were a blur as the volume rose to levels entirely unbecoming for a cathedral setting. It was a lovely moment, but it spoilt me, left we wishing for more. We'd witnessed a great St. Vincent performance but we'd only glimpsed the real Annie Erin Clark.
Comments from Facebook
comments