Ty Segall previously visited Manchester only a couple of months ago when he played the Night & Day Cafe with his current 4-piece, the aptly titled Ty Segall Band. That was to promote his full band collaboration 'Slaughterhouse', but a new record has hit the shelves since then, the awesome Twins, so the prolific young San Franciscan thought he would come back to remind the English how you really rock the fuck out in true Ty style.
Leeds band Hookworms warmed the room up with their funky krautrock beats (in the vein of LCD Soundsystem), jamming their 6-minute epics until the core of the band were in a dutiful trance whilst their singer screamed unintelligible lyrics overhead. The bassist sounded great, offering really tight angular throbs that would work perfectly in any psychadelic disco, and allowed the tripped-out guitar splashes to run wild. he band have a very layered sound, but none of the instruments are fighting with one another which means that the chaos remains controlled. I was impressed with their set, particularly the tracks 'Teen Dreams' and 'I Have Business Out West', and shall definitely be paying attention to these Loiner lads from now now on.
Both bands were on roadie duty, speedily setting up their own gear which meant the wait for Mr. Segall was not long at all. After a quick introduction ("That's Mikal, Charles and Emily, I'm Ty, thanks for having us") the band tore into 'Thank God For Sinners' from the newest LP.
Their stoned, riff-heavy footstompers haven't been off my iTunes throughout most of the summer, they're just so instant and catchy. The only other band that has incorporated the same glam-rock revival into their music in such an effective way are the Smith Westerns, but they don't have the same edge and ferocity as Ty's gang, or the same variety in their material for that matter.
Ty is a pioneer: he has released 3 full length albums this year as well as other bits and pieces, not just with his own band/under his own moniker either. Let's all just hope that this surge of creativity continues, because everything he puts out is cool as shit.
The infectious 'You're The Doctor' was second on the list, sounding even better following the band's frenzied performance on David Letterman's show just a few nights before. Ty's voice switched from aggressive screams to crazy howls which unmistakeably evoked the spirit of Iggy Pop. The perfect kind of frontman, in my eyes, putting so much energy into the performance. His face contorted and cycled through insane, mad-man expressions during feral guitar solos, whilst the rest of the band smirked knowingly at each other.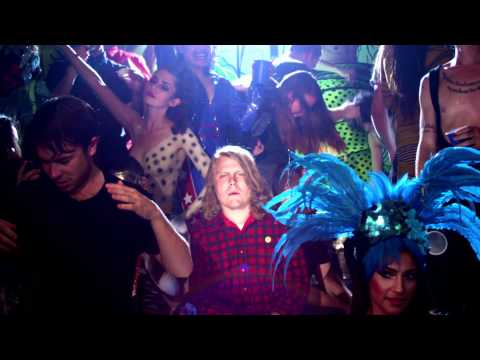 There wasn't an awful lot to report as far as band/audience banter goes, apart from the ever-present pissed-up song requests from various gruff northern men. One member asked Ty where they'd travelled from, to which he replied "London", inviting boos from all over the room. He amended this upset by declaring: "Don't worry guys, we still love The Fall".
Slaughterhouse highlight 'I Bought My Eyes' was next, followed by fan favourite 'Finger' from Ty's solo album Melted. The chorus was huge, the grunge onslaught from the guitars being particularly overwhelming, in the best possible way. 'Wave Goodbye' was next, and reassured me that it still deserves to be on my 'Best songs of 2012′ list. Mikal and Ty fooled around in between songs, laughing at themselves as they attempted 'The Hill', which is a duet between Ty and Brigid Dawson from Thee Oh Sees. Three tries later, they managed to make the unconventional harmonies work. Too many bands take themselves so seriously – these guys really don't which is great to see.
After ripping through 'Caesar' (another Melted favourite) and 'Tell Me What's Inside Your Heart', the band returned for a three song encore which featured a superb, well-received rendition of 'The Bag I'm In'. A little bit different from the last time I saw them, when they came on at the end to perform Black Sabbath's 'Paranoid' (repeating the introduction 3 times, in fact). My second helping of Ty in 2012 was even better than the first, and I just can't wait for the inevitable output of 2013. Unless he takes a well-deserved year out? Let's hope he bloody doesn't.