This was unexpected. I was all ready to review Yann Tiersen before a fantastic Calendar Malfunction meant that us Scenewipe lot had got our dates wrong. (That's right – we admit when we get things wrong. How very post-modern of us.)
So after a few text messages and an awkward bit of standing around I end up at the Academy to see Wilco. Not bad going.
The avaerage age of the crowd seems to be about 20 years older than myself and they've probably given Wilco more than 30 minutes of listening prior to the gig. (That's right, I don't listen to Wilco. Hush with your cries of "Philistine!")
Jonathan Wilson and his band very timidly and unassumingly walk onstage and begin their just-short-of-an-hour-Neil-Young-throwback-set. The songs are solid but Wilson's input seems to fade into the background all too often; whispering over the top of his Alt-Folk band's beautiful sounding vintage equipment. Although when half the equipment onstage inexplicably switches off, the remaining three musicians (including Wilson) manage to carry the weight impressively.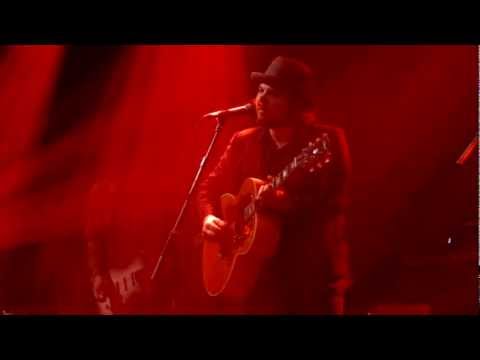 Wilco – Rising Red Lung – Courtesy of Rairun1 on youtube
There are about twenty house lamps hanging upside down from the ceiling of the Academy and a few littered around the side of the stage, all of which come alive in synchronicity the minute Wilco arrive onstage and begin playing 'Art of Almost'. It's impressive both visually and sonically – and usually if one of the first comments somebody has of a gig is how great the lights were, you'd think it was lame.
However, Jeff Tweedy and Co. are fully aware of what experiencing a live music performance should be like. Both light and sound compliment one another perfectly, providing all the right feelings and appropriate dynamics – effectively reducing the Academy to silence in all the right places. It takes them a solid hour of playing before even saying anything to the audience, and as soon as they do it establishes a further connection – with fans shouting requests left right and centre to receive a reply of a well-timed "Nope". The shouting masses were appeased in due course with songs spanning Wilco's career, but they played 'em on their own terms. This was a set constructed intelligently, that might well have been wasted on people who just wanted to hear their favourite track.
Wilco invited you into their home, made you feel welcome and made you wish you could visit more often. That doesn't mean you can pick the TV channel, alright?
Visit the WIlco Website