Kurt Vile has rocked up at Manchester's Sound Control and it is a great day! He's been relentlessly peddling his unique brand of classic American folk rock around the planet both as headliner and support slot for the indie rich and famous (Sonic Youth and Dinosaur Jr to name but…well…two), but now he is all ours, and the young, hip audience in attendance are looking like lovely dogs about to get their Bakers, or even Chappy!
Woods were pretty good, seeming to take catchy Americana pop songs and turn on them with fuzzy, psychedelic clubs. Not wanting to kill them, just slap them around a bit, teach them a lesson for being so catchy and nice. Well done you big bullies!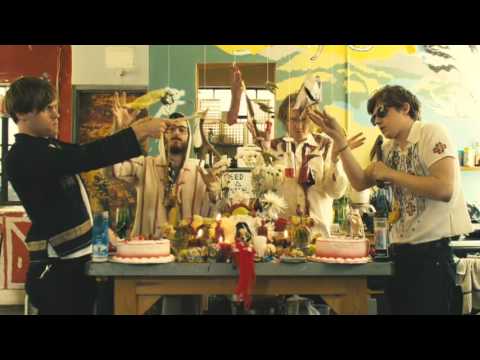 Woods 'To Clean'
We slip like ghosts through a gap in the audience to take position near the stage. Although we can see shit because of tall people (classic short person moan), never mind, if we crane our necks beneath the man in front's arm we can see the volume knob on one of the amps.
Kurt and his band, the wonderful Violators, have been milling about the stage getting 'things' ready for the past 10 minutes, but now, as the lights go down, Kurt takes his position in front of the mic to rapturous applause from the audience. Even the stoniest faced 'cool boy' has melted away and regressed back to the 16 year old offspring fan he once was; all excitement and love.
'Runner Ups' is the first song from a set heavy with tracks from new album Smoke Ring For My Halo. Kurt plays it solo and the room is struck by his naive eyes peeping through his thick long hair as he masterfully picks his washed out 12 string guitar and sings straight at our hearts. What a man, nice shirt too.
Now out come the Violators. Seeming to span infinite generations of rock, they are the perfect representation of Kurt's music; timeless yet contemporary, nostalgic but fresh, their highlight being their cave man/rock lord drummer, Mike Zanghi, banging tom drums with his bare hands, occasionally employing the use of a tribal club to smash out his primal rhythms, and all with the most serious face you can imagine.
Kurt declares in his sweet, kind voice that he is looking forward to some beers after the show, and even extends an invitation to come and "hang" with him, to which the audience responds in a pathetic, quivering voice that it would like that very much, very much indeed. I went straight home as it happens.
We spend the next hour of our time on this mortal coil swaying and swooning to the unique groove and melody of Vile and Violator's set, star studded as it is with incredible tracks like 'Puppet To The Man', 'On Tour' and 'Society Is My Friend', as well tracks from his Matador debut 'Childish Prodigy', 'Hunchback' and 'Freaktrain'.
Kurt Vile 'Baby's Arms' (Matador Records)
Kurt leaves the stage for a brief time as we shout for more, and oop, here he is. Back to give us more. He picks up his acoustic guitar once again and blows us apart with new album opener 'Baby's Arms', a highlight of the set.
As Kurt says goodbye and once again thanks Woods for their support, the lights come up and we can see each other's beaming faces, happy and proud that we can walk out into the rain having witnessed a performer so unique, he probably doesn't even know how special he is.
PHONE PIC by Sam Alder
For more Kurt Vile, visit this!