When The Broken Family Band called it a day in 2009, after eight years of shows, five albums – seven if you count mini efforts The King Will Build A Disco and Jesus Songs – and a fair few spots on the more esoteric of musical outlets (Radio 4′s Loose Ends, anyone?), the majority of music fans simply shrugged their shoulders and carried on regardless.
A size-able minority were not so flippant in their farewells though, as the ones that had stood and swayed their sweaty bodies at the frolics of a Broken Family Band gig knew that their passing would leave an absence worth marking.
With the atmosphere of a homecoming show almost everywhere they went, they were purveyors of fun, masters of ceremony, friends with guitars ready to fill you with good cheer and bonhomie at every turn.
That they never quite captured that wonderful experience on record may point to exactly why it all ended so suddenly. On the cusp of something bigger than they had and signed to the not-inconsiderable Cooking Vinyl, they called it a day almost as soon as their departing opus, Please and Thank You, dropped into existence.
That album is the only one not to offer an ode on It's All Over, the inevitable but not undeserved 'Best Of' that comes four years after the dust has settled. Not much is missed by the lack of inclusion.
Instead, the compilation offers 15 clever catchy tunes that, in the most oxymoronic of ways, show both why they should have been bigger and why they never were.
The truth is that the band, for all their excellent ideas and undoubted enthusiasm, could never quite fit the directions they took.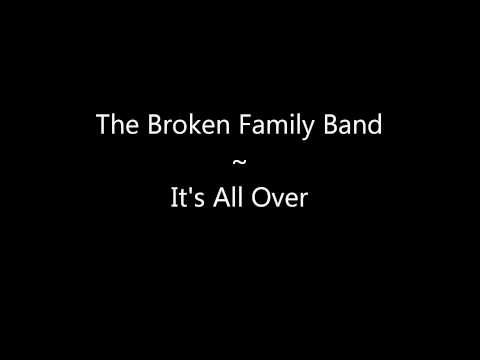 Across the 15 tracks, there's folk-rock fun and Americana endeavours, toe-tappers and good time gatherers, but there is very little that reaches above enjoyable and almost nothing that shows what the band could be live, which was nothing short of formidable.
That said, any ensemble that can fashion a gently poignant and perfectly pitched ballad like Devil In The Details, a surging 60s-throwback stomper like Love Your Man, Love Your Woman or a slow-burning rock-out like Hey Captain! deserve a glass raised when they are remembered.
And that is what The Broken Family Band will be – remembered. Not as titans of rock, not as the niftiest of songwriters, but as a band who, by their own admission, formed for fun and spread that feeling wherever they played, delivering a clutch of fine tunes along the way.
Comments from Facebook
comments