Making it to the fourth date of a highly anticipated comeback tour on the back of their well received third album 'Sequel to the Prequel', Babyshambles stumble onto the stage of Manchester's Academy 1.
Astonishingly, Pete and co. arrive on-stage only fifteen minutes later than announced, but what was to follow, was a live, uncensored train wreck. Opening with Delivery, Pete stumbled and swayed around the stage, his guitar haphazardly thrashed and lyrics even more randomly wailed, albeit perfectly in tune.
The band, led more by Drew McConnell and Whitnall followed up with latest single 'Nothing Comes To Nothing', which, unfortunately is just about the gig's peak. From then on in, it all turned a bit sour. 'Why are Leeds and Manchester always the best nights man?' queries Doherty before chanting 'Yorkshire' and 'Doncaster' before announcing that the next track would be the last of the night, all to the boozy crowd's bemusement. 'The Man Who Came To Stay' sees less lyrics or vocals and also sees Pete fall over the drum kit, and then drop the microphone, and rather aptly, 'Fall From Grace' has Pete pouring cans of beer over his sodden locks and lying on the stage, completely unaware of anything going on around him. His disciples care not, and cheer him on regardless.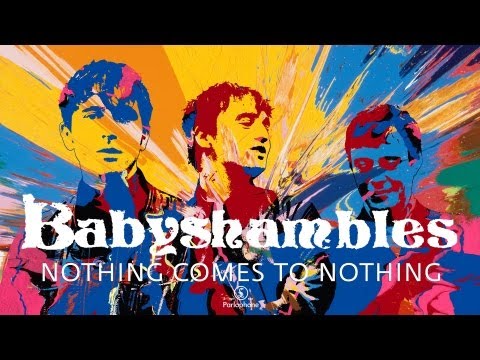 Doherty leaves the stage to a few boos, after throwing his microphone then wondering why it didn't work. His techies have their work cut out as they follow him around the stage clearing up the mess he leaves scattered behind him. When he does return, more beer is poured anywhere but in his gob and Mick and McConnell gather round him; a kick up the arse and they look uncomfortable and embarrassed to even be there.
From then on, I lose track of what he's playing (as does he) and just wonder if he might actually fall over and never ever get back up again. It's sad to watch, a man, once idolised by millions, one half of one of the best indie set ups of my generation, is totally oblivious to his thousands of revellers who still cheer him on and sing his songs when he cannot. His undoubted lyrical majesty and ear for an unforgettable riff evaporates into nothingness as he leaves stage left once more after throwing his mic into the front row.
The set list I saw prior to the gig had 21 tracks on it. Half were half played, the other half not at all. After an half arsed outing of fan favourite Killamangiro and the appropriately named 'Picture Me In A Hospital', Pete struggles to light his own cigarette, whilst veering from his own songs to sample lines of Beautiful South. A raucous 'Fuck Forever' ends the one hour set, and leaves even his hardcore of fans completely baffled.
Pete should be ashamed by his total lack of respect for anything or anyone, but, I suppose when you buy a ticket, you take the risk and pay the price, and so, everyone's favourite wreckage will still flock to him no matter what, where, or how much he charges. After the gig, Pete was seen trying to drive the tour bus away in just his boxers only to be pulled off the wheel by his busy tour crew and driver. An almighty 'Fall From Grace'. Again.
Comments from Facebook
comments