"M O N E Y announce two intimate shows in The Bunker." the Bella Union site and social media accounts parp. "The Bunker…" they follow-through, is "…a former WWII underground shelter in Dalston…"
If you were Ben 'Adolf-Sways' Ward, you'd be entitled to feel a little aggrieved. Not only have Bella Union arguably poached his best & brightest, but they've Shanghaied the aesthetic that all associated mise en scenesters bled, sweat and wept into local legend in the shadow of Strangeways. Ben and I haven't exactly had the best, if any, form of relationship – the extent of which is the odd ambivalent email, me chewing-out a Sways puff piece by Austin Collings on The Quietus, and on a Withington street last Summer, whispering something in his ear about some grisly metaphor too taboo to use (as evidenced in its absence here).
'Heaven is Real'.
'Manchester is Paradise'.
I can't help thinking there's something well meaning but ultimately patronising or ironic in our adopted son's last soundbite. 'Paradise', or more significantly it's gentrified bohemian epicentre ignited twice in the summer running up to M O N E Y's brace of Manchester International Festival appearances, which coincidentally bookended the third and (touch charcoal) final blaze which of course claimed the life of one of the City's firefighters.
In the M O N E Y songbook/slogan-lexicon "Paradise is Hell" too, "…when there's someone who's in control", as Jamie waxes-Ashcroft on 'Hold Me Forever'.
As the hype ahead of 'The Shadow of Heaven's release date built a head of steam, I saw some of the fluffing-up coming from peripheral figures on the Sways scene, in various online and print publications, still using M O N E Y as currency. In the interest of impartiality, a piqued interest in how genuine these precocious little upstarts were, and an honest to God sympathy for Sways having been mugged, I wrote to Ben and Bella Union for an advance of the album.
"Onward, Benward.
Care to give me the skinny on that M O N E Y transfer?
Are they still betrothed in soul to SWAYS?
As a matter of fact I requested and was granted the Pavilion gig, but was
then handed Amanda Palmer and could do only one.
Luckily Lucy Holt was standing by.
Serendipitous, I'm sure.
How did she manage to review it for The Skinny too? Is she your instrument
or just M O N E Y's?
I'm honestly not going to skewer them. I just have to know if they are what
they purport to be.
Are they?
Would you tell me?
Would you tell yourself?
Now they've traded you in for a more illustrious suitor, are you a reliable
source, or clouded by betrayal?
Who knows, maybe I'll just end up writing about you.
Which is sort of not what I want, but I have to admit – it enthuses me more
than the prospect of listening to these lugubrious tunes.
Keep your peepers open and your pecker up."
Mssrs Ward, Boy, Holt and Collings were all approached for this review (the latter two willingly giving up their email addresses on the understanding I was looking for input) but refused to go on record.
A copy was promised by Ben but never materialised. I had to source my own.
Jamie Lee's angelic upper register reverberates around itself before the arrival of the strategically deposited droplets of 'So Long (God is Dead)'s glacial, pseudo electronica, which I might be in danger of falling in love with if I was getting some mid-twenties, middle class, Catholic ass.
'Who's Going To Love You Now' breaks the surly bonds of earth with a rousing underlying guitar flutter and takes wing on the bombast of a buoyant lyric-less singalong that satisfies more than the afterthought of a chorus ever could.
'Bluebell Fields' feels singular, by which I mean both in the sense of it having definite pretensions of being a single and feeling somewhat adrift from the rest of the record as a whole.
It's 'Goodnight London' that got followers bessotted, and 'Goodnight London' that provides the album's centrepiece – along with 'Who's Going To Love You Now' it boasts the band's most enviable assets.
From here on in, at this top heavy, they were always going to be walking a…Cocksedge.
Come on, someone had to say it, and it was always going to be me.
'Letter To Yesterday' is sent c/o Curtis, Bono and The Bunnymen. Jamie Lee's voice is getting unashamedly frayed around its edges as a foot tapping 'Atmosphere' style slow boiler leads the album into bonus crowd pleaser for second-half balance 'Hold Me Forever', liberally dappled in the now ubiquitous audio equivalent of stained-glass sun shafts.
'Cold Water' could have spluttered out of Buckley the younger's Mississippi flooded lungs, reminiscent as it is of his interpretation of Benjamin Britten's 'Corpus Christi Carol', before the song rattles into a broody tract that Jamie must have had in mind when he proclaimed the album a 'descent into Hell'.
It's at this point they've arguably blown their load into their own over-surveilled navel; or perhaps gotten too tantric – depending on your interpretation – as things, for me, stall in the mire of spartan if still slightly glittering Hymns, until the title track brings things briefly back to the reverent stadium singalong style you suspect they're going for, dragging the previous song's (Cruelty of Godliness) eponymous pondering with it.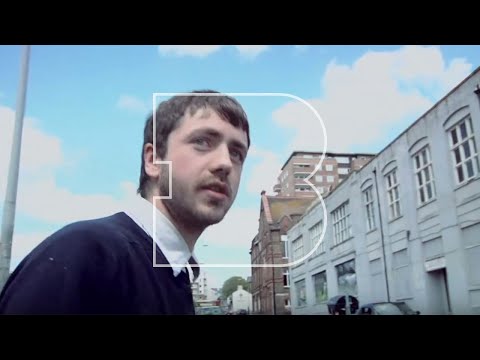 Jamie Lee squints, imploring the inside of his eyelids to prevent him from derailing his memorised missive on '…the death of everything' in his appropriated prose's hackneyed vernacular.
By the time the album fades to 'Black' the pristine, reverb drenched choirboy falsetto operatics of 'So Long (God is Dead)' are a distant memory and Jamie's impressive if sometimes overambitious vocal range briefly slips, in fitting with the tone, in its attempts to grasp at previously easy notes. There's something sombre and contemplative, but not quite completely satisfying about its climax as 'Goodnight London's creaking, atmospheric upright piano ascends into dead-end and the cessation of the record.
As much as I'd prefer to avoid them, the abundant Coldplay comparisons are inescapable in the regular inadvertent emulations in the timbre of Jamie's voice. Hopefully further comparisons are permanently circumnavigated as regards the connotations of so odious an example. As their hopefully ironic name suggests, there has to be more to life than this. On the back of this debut, it might be foolish to put it past M O N E Y affording themselves the luxury of coming up with something approaching it. M O N E Y could be the band-with-an-attitude/intellect that NME has been waiting 15 years for.
Or modern pop for the office Jim Morrison.
Either way, M O N E Y's ascendency seems inevitable as Jamie Lee takes his pontificating out of heaven's shadow. having nailed a declaration to its gates.
M O N E Y play with notions of existentialism and the enlightenment of the realisation of one's hostage situation in the tyranny of temporality, and deftly brandish the props and iconography of a vaguely romanticised British spirituality of the sort strangers entrusted with our infancy tried to indoctrinate us into both fearing and seeking refuge in, packaged in the postulating of a ballsy twenty-something with a point to prove – an aesthetic catalogued in the band's long dormant tumblr account, which is steeped n loaded black and white reportage stills, demos dubbed over re-appropriated film footage, paintings by Waterhouse and the like, and patronising wikipedia links to entries on philosophers.
Youth/Books=M O N E Y.
Here's hoping their name-change evolution wasn't just a self fulfilling prophecy of their particular formula for success.
Comments from Facebook
comments