Forest Swords' Engravings was pretty high up my list for 'favourite albums of 2013'. A ticket to ATP Iceland has also landed in my lap (it didn't take much to persuade me), for which Forest Swords have been announced to play. This would be an opportunity to feed the schoolboy, teeth-clenching excitement that will eat at me until July.
I'd been recommended to listen to the support, Gnod, on many occasions. The Deaf seemed half-full which would eventually make me feel sorry for everybody that would miss the first act. I was stoked to discover that Gnod would play a set to sound like Swans soundtracking an episiode of Carl Sagan's Cosmos. The accompanying visual of swirling clouds of stars certainly helped to put me in the right frame of mind. They looped the feedback from a guitar being plugged in to a rhythm that I couldn't quite put my finger on. The freeform jazz sax had me on edge, but the layers kept building, sucking me further in. It sounded like the closest thing you could get to a dance remix of a stoner-doom song, and do it justice.
When the set came to a close, I felt that somebody should ask 'Where is the rest of it?' until I realised that they'd been playing the same song for half an hour. It was the music equivalent of falling asleep in the day and waking up after dark. I'll definitely be seeing Gnod the next chance I get.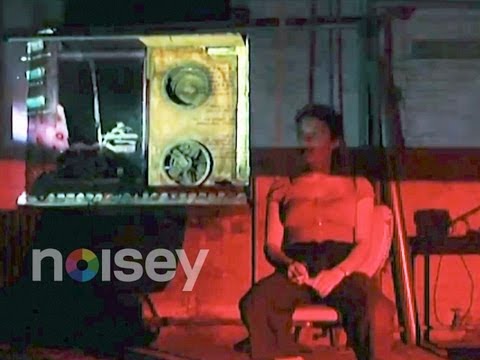 Late-comers filled the room which made the gig feel oversold. I'm glad I had a comfy spot up at the back. A projector screen was lowered and Forest Swords (plus bass player) entered the stage and we were ready for the main act.
Forest Swords did not embark with the same kind of energy that Gnod left us with. The first couple of songs left me underwhelmed and I thought about how I might manage in festival conditions.
However, once Engravings opener 'Ljoss' was dropped, everything fell into place. We were taken on a contemporary dub/trip-hop tour around the globe: Arctic tundra, American desert and through an Indian jungle on the back of an elephant. I was reminded of Peaking Lights remixing Yeasayer's early music, before Yeasayer started to dress like Kings of Leon. The bass drove right through my chest making me wonder why I hadn't attended more dub gigs. This makes me want to see Lee 'Scratch' Perry or Horace Andy the next time either of them play Band on the Wall. Contemporary dub is definitely somewhere that can be explored further and I think Forest Swords are in the right place at the right time.
The visual accompaniment was a welcome change to the esoteric, black-and-white archive footage we are normally subjected to at gigs. Hard work has finally been put into something far too often overlooked. There was a mixture of flowers being chucked about in slow motion before a high-frame rate camera and a black-haired figure that could be cast as the next sequel of The Ring. You'd be watching a similar movie were you to remove the gallons of paint and weird monsters from Animal Collective's ODDSAC.
The Deaf Institute definitely has the interior style to carry Forest Swords, but unfortunately, it is not built to deal with the sub-bass of dub. Deaf Institute is more used to meek, twee-indie bands that are not quite sure what a bass guitar is for. After every nail and bolt in the Deaf was shaken lose during Forest Swords set, it leaves me wondering how it might be able to handle the likes of Sunn O))).
Although Forest Swords didn't quite start how I'd hoped, they hit stride after a few tracks and they had everybody until the end. I would like to see how their tour pans out so the next time I watch them, they are even better. Those attending ATP Iceland are in for a real treat. It can't come quickly enough.
Comments from Facebook
comments