LA Weekly recently posted a list of the worst Hipster bands that they could think of. On the list, coming in at number two, pop-pickers, sandwiched between Beach House(not as good as Stereolab, shame on them) and Bon Ivor (not sexy/doesn't do drugs) was Merrill Garbus' outfit, tUnE-yArDs. Apparently she won an award from some website that has a silly name. This, it seems, completely discredits her and exposes her as a fraud. Any press etc…
Its a stuffy Monday evening and the venue, a trendy joint with lots of wood paneling and exposed brick and with a huge wall of ancient geiger meters behind the stage, is already getting clammy. Local support, Bernard + Edith have just taken to the stage and their sultry electropop is setting a fine mood. Frontwoman, Edith is mesmerising to watch. A slinky Kate Bush figure she bewitches the front rows with her breathy delivery over pulsing coffee table electronica. Imagine Sade after a couple of bongs.
Tune-yards started out five years ago with Merrill doing everything live, playing drums, ukelele and singing, yelling, bleating, what have you, recording them all on stage and layering them into a big mess of wow. She has recently expanded into a five piece band, though two of those members – the twerking Hawaiian beauties at the back – don't play any instruments. Vocal layering is as important as ever and the sense of togetherness that multiple people singing the life affirming phrases that litter tuneyards' lyrics is one that translates over to the audience pretty quickly. gud vibez.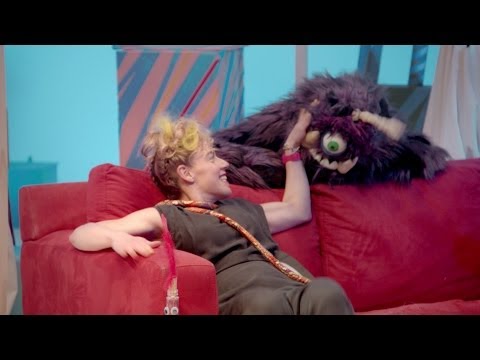 The songs start with percussion, mostly. Merrill and her drummer laying down tribal backbeats that trigger primal excitment that reverberate around the venue. With these rhythms and the vocals alone delivered by a woman with warpaint on her face, it feels like we are being inducted into some clan, on a continent that I've never heard of. We could be forgiven for forgetting that we are watching a pop performer at the top of her game. it isn't long untill the songs start to build. Bass and keyboards add real dimension and modernity to the songs but retain that innate euphoria at the core.
Merrill is clearly enjoying herself and explains that she heard about the famous lull you feel after playing Glastonbury, which she did a couple of days before. She tells us Manchester is the best way to combat post-Glasto blues and tells us she has missed us and that tonight's intimate gig is way better than the festival anyway. Formality or not, the crowd lap up the praise and we continue closer than before.
The separation of extra drums and bass guitar definitely add space and clarity to the sound. Merrill ping pongs between drums and her casio keyboard for most of the set but a cheer goes up when she secretes her ukelele and serenades us with Fiya, from her first album, BirdBrains. The material from the new album, Nikki Nack, is mind-bendingly well thought out and delivered. The dynamic shifts are prominent and the sounds are slick and clear. It makes the first album look primitive and simplistic, but the message is the same. Life is there, we can all live it if we fancy.
In an age of cynicism where people are sceptical of music for the most ridiculous of reasons, we should remember that music is an art-form. It is art. To create something this positive and colourful and put so much soul and effort into it should be celebrated. If its pretentious to want my music interesting and unhinged, then hand me my moustache comb daddio, I'm with the hipsters.
Comments from Facebook
comments