"N. Senada's (Bavarian Composer -1907-1993) "Theory of Obscurity" states that an artist can only produce pure art when the expectations and influences of the outside world are not taken into consideration."
I shouldn't have to be writing this because you should have been there yourself. Luckily for you, Bob is a natural phenomenon that, like some integral celestial body circles the Planet Earth every year, so you can ensure you don't miss him next time. Though maybe it's us that orbits him. Anyway until next year…
Bob Log III isn't that lanky guy that soundchecked. Bob was shot from an Arizona flag emblazoned cannon out of a Jack White nightmare or Evel Knievel wet dream into being. Bob knows he's the finest thing in all Creation and has deigned to share his preordained greatness with you; so clap your tits, sit on his knee, put shit on his leg and your boob in his scotch – walking through the audience, balloons tethered to headstock and bridge, Bob plays his way to the stage…

"He's looking right at me!" Balloons, purty ladies, hard liquor. He's a professional. He lives in a car.
Despite an appeal via Twitter, no one brought along a rubber dinghy tonight for Bob to surf the tide of bodies, so instead he's offering to hand out balloons to those who sufficiently lose their shit during each number. It's shit-kicking, boot stomping Rock N' Roll via an amphetamine addled spectre of the Delta Blues. While there's undeniably a tongue lodged firmly into a chewing tobacco-browned cheek beneath that visor, he's in no way defamatory about the tradition he's entered into and expanded upon. The Dadaesque shroud of anonymity might be a concession to initially wrong-foot and ultimately win over any cynics who think they've heard this all before, but it's better not to over-think things in such terms – there's a gathering as diverse in age and cultural affiliation as I've seen at any gig in recent memory, all involuntarily entering into a rhythmic conniption fit for a guy with a telephone receiver jammed through the visor of a glittery crash helmet playing a style of music over a Century old.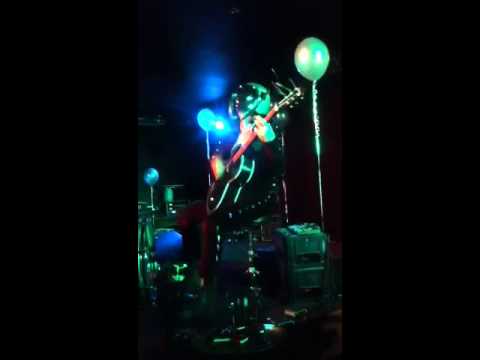 Head jerking upward, side to side on the offbeat while his fingers molest the fretboard of his Silvertone archtop or electric Banjo at warp speed, Bob cuts an awesome if uncanny figure. There's something about the inhuman helmet in juxtaposition with the skin of the plunging neckline created by the open zipped jumpsuit. He's like an action figure or cartoon character – nothing should be inferred as being moulded or pencilled-in beneath that mask other than a fully formed, Universally understandable persona; this redneck overstuffed with a bravado that he unwaveringly, conceitedly believes you're in complete agreement with. This assumption makes him hilarious, but also honest, as his proficiency with his instrument turns out to be undeniably awe inspiring.
Bob takes us on a travelogue of his back catalogue, interspersed with the standards ('Boob Scotch', Clap Your Tits', 'Log Bomb') and self aggrandising between-song banter that never fails to land a gut-punch guffaw, before languidly swaggering off through the crowd the way he entered, playing complex riffs with ease before disappearing through a backroom door. The music continues unabated, before Bob reappears stage left from having presumably passed throgh a backstage corridor without breaking his stride to complete this Kaufmanesque encore or 'nonecore', if you will.
Bob Log III must stoke doubt and embarrassment in innumerable affectation laden, self important, pouting musicians with the conceptual realisation, technical prodigiousness and unfettered joy of his act. At least he would, had he not simply been shot from an Arizona flag emblazoned cannon out of a Jack White nightmare or Evel Knievel wet dream into being. You aren't even on his radar, chump.
Next time I'm taking everyone I know, and cajoling those I don't, starting with you.
Comments from Facebook
comments